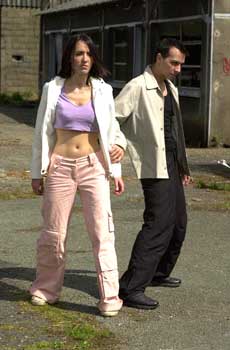 The fourth episode of F5 was for us a challenge on every level. As it was to be the before to last episode in the series, we knew we had to improve on our weak points. This is how we passed from lycra to spandex for our costumes, and enrolled Dicoman (Kevin in F5 ep 3) for improving the actors' play and managing them on the shootings.


Thanks to this evolutions, we managed to display a more serious side of the series, to put us on the way to the conclusion.


The shooting of ep 4 was one of the hardest of all : spread on more than 8 months, it had a lot more to shoot than the previous episodes. In the end, F5 ep 4 is the longest episode with more than 39 minutes !
We also had the honor of getting a first choice musical score with Yannick's composing, who had improved since ep 3, but also an image song made especially for us by Les Romanesques, and last but not least an all new opening song created and sung by Akira Kushida, the mythical Japanese singer of series like Gyaban, Sun Vulcan, Kinnikuman, Abaranger and a lot more.